Before electricity reaches you, it goes through a number of stages:
Generation
There are four major generation companies responsible for creating New Zealand's electricity from a range of sources. The primary method is hydro which accounts for approximately half of Aotearoa's electricity generation. The four major generation companies are:
Meridian Energy
Contact Energy

Genesis Energy

Mercury
Transmission
To transport electricity across the country from generators to distributors, a high voltage transmission network is required. This network, known as the National Grid, is owned and operated by Transpower, a state-owned enterprise. Around 200 Grid Exit Points (GXPs) allow the National Grid to connect to distribution networks like Wellington Electricity.
Distribution
This is where we* fit in. Wellington Electricity is one of 29 distribution companies. We connect to the National Grid at nine GXP locations within our region. Each GXP substation transforms electricity to a lower voltage for distribution through overhead lines or underground cables to homes and businesses.
Retail
Retailers purchase electricity from the electricity market and, through the transmission and distribution networks, meter the electricity usage of consumers' premises. The retailers package the transmission and lines charges from Wellington Electricity, along with the amount of electricity used, to create a single bill for customers.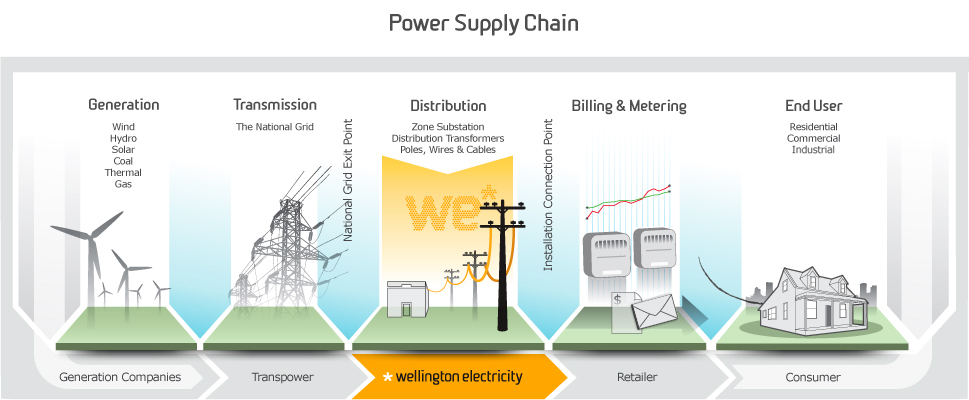 How we charge for our services
We charge for supplying electricity and maintaining the network of poles, wires and other equipment that distribute power to homes and businesses. The amount we're allowed to charge is regulated by the Commerce Commission.

We combine our charges (distribution charges) with Transpower's transmission charges (the cost of running the National Grid) to make up

lines charges

, which electricity retailers then re-package with their own costs to make up your power bill.

The lines charges you pay for having electricity delivered to your premises make up around a third of your overall electricity bill. Another key cost is the amount paid by retailers for the electricity (which they buy from generators).