Wellington Electricity manages the local lines network that delivers power to Wellington, the Hutt Valley and Porirua.
This is made up of over 4,650 square kilometres of poles, wires and other equipment that safely supplies electricity to around 173,500 homes and businesses across the region.
Alongside our residential and commercial consumers, major customers with significant electricity use include:
New Zealand Parliament and government agencies
Hospitals and emergency services
Telecommunications providers (telephone exchanges and cell sites)
Major infrastructure providers such as Waka Kotahi NZTA, KiwiRail, Wellington International Airport and CentrePort
Large education institutions such as Victoria University, Massey University and Te Pūkenga
Network security-sensitive customers such as Wētā FX, Datacom and Ara Poutama Aotearoa (Department of Corrections)
Regional and local authorities, including council infrastructure such as water and wastewater treatment and pumping stations, as well as provision of the streetlight network.
Wellington CBD is the largest business and retail centre for the region and includes the head offices for most government departments, although there are also significant retail centres in Lower Hutt, Upper Hutt and Porirua.
Our mission is "to own and operate a sustainably profitable electricity distribution business which provides a safe, reliable, cost-effective and high quality delivery system to our customers".
The reliability of our Wellington network is high by both New Zealand and international standards.
Wellington Electricity is subject to a range of legislative and regulatory obligations to ensure our network is safely and efficiently planned, constructed, operated and maintained. The prices we charge for our services are set by the Commerce Commission.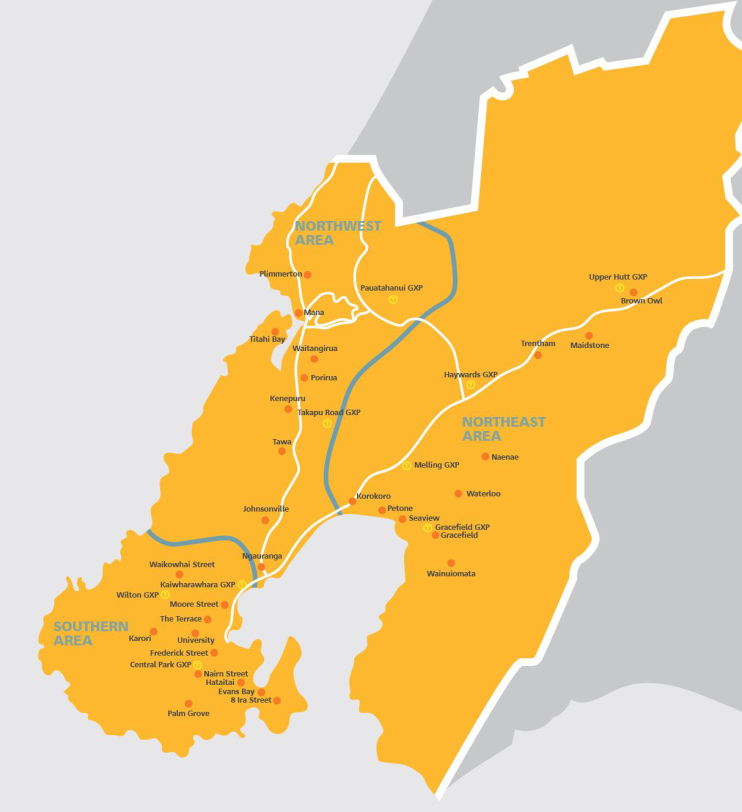 Who is Wellington Electricity?
Watch the video below (expand to full screen for optimal viewing) to find out a little more about who we are and what we do.