Making energy in different places is about the holistic use of all forms of energy to reduce reliance on the electricity network. For instance, well before rooftop Solar PV became popular homeowners sometimes installed solar hot water heaters that directly heated residential hot water on sunny days; no electricity required.
Wellington Electricity Lines Limited (WELL) actively supports the use of all technologies to reduce electricity consumption from the network. Most well-known technologies today are however based on generating electricity as opposed to systems such as solar hot water.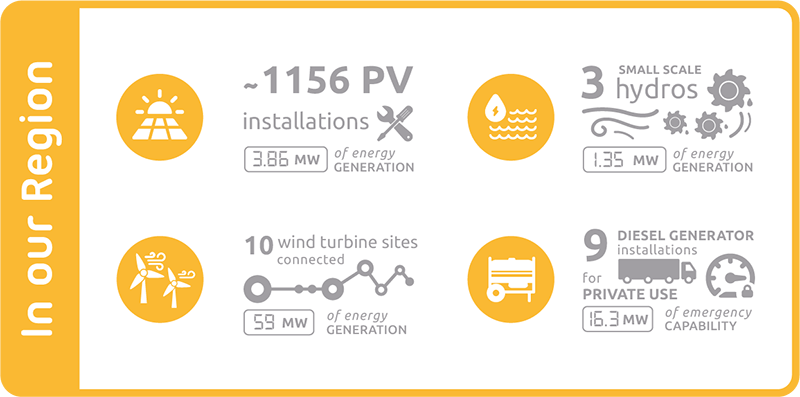 Energy storage at home
Energy storage mechanisms include batteries, compressed air, pumped water and various forms of heat storage. These have the ability to increase the flexibility of a power system because they can store and release energy on demand.

Batteries
WELL has partnered with Wellington City Council (WCC) and Contact Energy (Contact) to trial rooftop solar power systems coupled with battery storage. One initiative of the trial is investigating whether enabling customers to run a micro-grid that is islanded from the network — makes Wellington more resilient. Contact and WELL can control the batteries and view the meter data captured. This data includes the solar output, battery state of charge and household usage. The batteries can be activated during a fault or peak demand periods to reduce loading on the network. Early results from the trial (still in progress) confirm the effectiveness of battery storage for the targeted objectives. Other findings are that coordinated charging and discharging can benefit the network by reducing peak demand, and avoid large output variations from distributed generation. The rate of installation of batteries for energy storage in Wellington is expected to rise as the unit cost for batteries falls. Installation rates will also be influenced by the results of research to improve battery capacity and capability, and as tariffs (feed-in and time-of-use charges) are refined.

Hydrogen
Another area that needs to be considered is the hydrogen application and the hydrogen fuel cell technology. This technology is still at the early development stage with very limited conceptual designs available. However, hydrogen solution offers some unique competitive advantages in comparison with electro-chemical based electricity storage like batteries.

Hot water
Residential and commercial hot water storage systems are forms of energy storage and can be controlled by lines companies such as WELL. We have been using this technology for a long time and while we are exploring new energy storage technology we will also assess the potential of utilising hot water storage control capability for future network management applications.
What are we exploring?
After completing the trial project with Contact Energy to prove the concept, we have started working with a major energy retailer in NZ for a Low Voltage energy storage and solar connection pilot project. This trial will give us more knowledge on interfacing energy storage with a Low Voltage network and demand side management platform. We'd love to hear from both residential and commercial property owners who may be interested in roof top solar or battery systems. Click below to register your interest.