What is electricity?
In your home, electricity keeps the lights on. You need it for lots of things – from keeping your food chilled to staying connected to the outside world. It's hard to even imagine what your life would be like without it. But what IS electricity?
Electricity is a form of energy. Energy is power – the power to do and move things, and to make things work. Electricity begins with atoms. Atoms are tiny particles that are too small to see. Atoms make up everything around us.

The centre of the atom has at least one proton and one neutron. At least one electron travels around the centre of the atom at great speed. An outside force, called voltage, can push electrons from atom to atom. This movement of electrons produces electricity.

Where electricity comes from
When you want to use electricity, you plug an electrical appliance into a socket that looks like me. But does electricity come from sockets? Well, yes and no.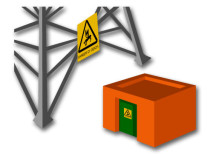 Electricity starts at a power station where it's generated by heat, water, or wind – or fossil fuels like coal. From here, it's sent through a grid of power lines. First, big transmission wires on pylons carry electricity to places called substations in different towns and cities. These substations contain transformers that reduce electricity's voltage so it can travel on smaller power lines that branch out down streets, either on overhead lines or underground cables.
These lines and cables carry electricity to more transformers on poles or on the ground, where the voltage of electricity is reduced again so that people can use it safely.
Substations and transformers are very dangerous; that's why they have warning signs. Don't touch them for any reason.
From transformers, electricity travels into buildings through wires called service lines. These connect to a switchboard, which directs electricity along wires inside the walls. An electricity meter attached to each building's switchboard measures how much electricity is being used.

When you plug something in and turn it on, you complete electricity's circuit. Electricity flows from the wires in the wall, through the plug's metal prongs, and into the appliance through its cord (then back through the cord and into the power grid again).
So, while electricity doesn't actually come from plug sockets, it's waiting inside the socket to be used – just like how water waits in pipes for you to turn on the tap and let it flow.

Electricity travels through conductors
A conductor is a material that electricity can flow through easily. Metals (such as copper and aluminum) are good conductors. That's why electrical wires are made of metal.

All the wires that lead from power stations to substations and transformers and finally into buildings have metal inside them for electricity to travel along.
Water is another great conductor. Because your body is mostly water, electricity can also travel easily through you.
⚠️ If electricity travels through you, it's likely you will be seriously hurt or even killed.
Electricity travels close to the speed of light at nearly 300,000 kilometres per second. If you moved that fast, you could travel around the world eight times in a flash! Electricity gives you no time to react. You can't move faster than it, so you just have to stay out of its way.


Insulators help keep you safe
Electricity does not travel easily through certain materials like special rubber, plastic, ceramic, and glass. These materials are known as insulators and are used to keep electricity from leaving the wires it travels through.
Although some types of rubber are insulators, wearing rubber gloves or rubber-soled shoes will NOT protect you from getting an electric shock. Don't take chances: keep yourself safe by staying far away from power lines.

Insulators keep electricity from leaving power lines and travelling down the pole to the ground. If an insulator breaks, or a power line becomes disconnected from the insulators that hold it up, the line can fall to the ground and energise (electrify) the area around it. If you touch a downed line – or even the ground near the line – you could be hurt or killed. If a power line falls on a car and you touch the car, you would also get a shock.
Insulating materials also keep electricity inside appliance cords. Rubber or plastic insulation around the cords keeps the electricity in the wires and prevents you from getting a shock. If this insulation is broken or wears off, the electricity can come through and shock you. Also, if you overload a plug socket by plugging in too many things, the cord's insulation can overheat and melt, causing a shock and fire hazard.