During a storm or high winds, loose objects and debris can pose a significant general hazard and also threaten the safety and reliability of our network.
A recent incident in Stokes Valley saw a trampoline lifted up by strong winds and become entangled in our overhead power lines with such force that it also broke a power pole.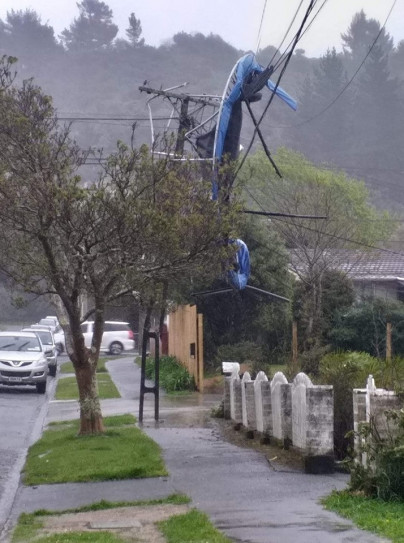 Our field crew worked with Fire and Emergency New Zealand to remove the trampoline, replace the damaged pole and restore power supply for the neighbourhood. However, over 40 homes were without power for several hours as a result of the incident.
Fortunately, no one was hurt, but the incident serves as an important reminder that loose items can be both dangerous and disruptive during wild weather– particularly in "the world's windiest city".
For your own and others' safety, and to help prevent these types of incidents from occurring, please remember to secure loose items on your property; including, but not limited to:
- bins and recycling boxes
- boats, caravans and bikes
- branches and firewood
- gas tanks and fuel drums
- outdoor furniture and sheds
- potted plants and ornaments
- tools and hardware.
Photo courtesy Khalman King