From March 2020 through to November 2020 we're going to be working in Dehli Crescent, Khandallah, to replace and upgrade a local substation.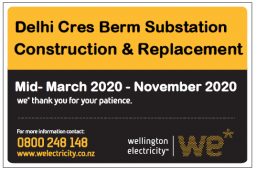 What's Happening? One of our local substations, near to no. 27 Delhi Crescent, Khandallah is due to be replaced. We are taking the opportunity to upgrade the substation to a higher capacity model which will be able to cope with future growth. The project has two phases:
excavating, piling and concreting for the substation foundations for the substation.
excavating a new trench in which replacement cables will be laid
When? The first phase of the project starts in March 2020 and is expected to take until approximately August 2020. The second phase will then start and is expected to be completed in November 2020, though at this stage of the project these timings are approximately only. The majority of the work will be conducted during normal working hours.
What Can I Expect To See? The first phase of the project will be undertaken along the road reserve area of Delhi Crescent. There will be disruption to traffic and pedestrian flows close to the worksite during this stage. Traffic management will be put in place over this time to ensure that vehicles and residents are guided safely around the work sites.
Phase 2 will involve trenching and cable hauling to install the new electricity cables. Traffic management will be put in place here too, to ensure safe passage around the project sites.
To ensure that the general public and our work crews are kept safe the work area will be clearly marked with signage and traffic cones. At times the area will be also be protected by fencing when the site is unattended. There will be heightened noise levels from the movement of heavy equipment and during the excavation and piling, though this will usually be within normal working hours. We will be working to keep any noise and disruption to a minimum.
Will I Lose Electricity Supply? The work may require some outages so that the field crews can perform their work safely. Residents will be notified by their retailers and/or the local work crews approximately a week prior to when those outages may be occurring.
How Else Might I Be Affected? Vehicle and pedestrian access will be restricted at times, near to the site on Delhi Crescent and potentially impacting access to Karachi Way. Stop/go Traffic Management will be in place.
We appreciate your patience while we complete this important work.

If you have any questions or concerns please contact:
Paul Parreno, Wellington Electricity Programme Manager
Mobile: +64 21 537 642
Phone: +64 4 915 6101
Email: [email protected] OR [email protected]